2019 Spanish Harvest Report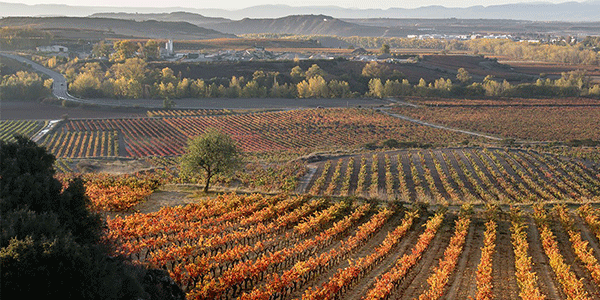 "I went out walking the other day/The heat hung wet around my neck
...[then] the rain pissed down upon me/And washed me all away
... mad heat and the[n] relentless rains...
Well, the road is long/And the road is hard
And many fall by the side" *
What is the story with Spain (and Europe)'s 2019 harvest?
We all know the story of the twin cold-and-wet/hot-and-dry apocalyptic 2002/2003 double act?
I'm sure you've all been told by honest dealers in Burgundy (he he?!) about the rule of September 24 for the 2012 vintage (ie, if they hadn't picked by breakfast time on the 24th, forget about it, as the skies opened for the deluge of all time that morning, and next day every bush in the valley was being picked to save whatever split berry-sugar plummet fruit they could)??
So, with this year's double heatwave in early summer and double rain deluge in October, what can we expect?
I travelled to Spain for this year's harvest having watched weather reports showing two massive heatwaves of sustained temperatures in the upper 30s and into the 40s in late June and again in late July. I was pretty sure when I arrived for harvest in week 2 of September that I'd hear lots of unhappy talk about an early, difficult and unpromising cosecha all around Iberia.
Europe in general suffered through incredible heatwaves in the final weeks of both June and July, as vineyards were getting into the business of growing fruit for this year's harvests. Then in Spain (I'm not actually sure about the rest of Europe on this point as I was head down/bum up on the scene in the Iberian harvest), we also had rain deluges at the pointy end of harvest time, with incredibly dense, protracted rains on Monday 14th and Wednesday 23rd of October.
Cooked to death, then washed away?
Not so fast, Co-chise …
In many regions, the time between both weather episodes was really mild with protracted cool weather (some regions were humid as well, others really dry). The Wagnerian jackboot stomp towards a frenzied early picking eased to bucolic butterflies and picnic blankets under mild skies leading into autumn. Mid-September warmed nicely. Harvest began on-normal-time in most parts, more-or-less, and finished a little early. Overall, it looms as a very low yield harvest of very good quality – extremely healthy fruit of concentration and incredibly good acidity. I've certainly tasted some very good looking gear during and after fermentation; and before, during and after malolactic all around the place. Here's a region-by-region summary (at end, brief retrospective notes on other vintages going around right now which I've tasted – drunk – lots of while here for 2019).
Extremely dry summer
Very low crops, 30-60% below norms (30% in most places, Marco de Jerez very low, though)
Naturally clean, healthy fruit
Flavour and volume with great acidity (very low pH reported everywhere)
Very natural, easy fermentations and relaxed, untroubled wines with clear early identity
Here's the region-by-region:
GALICIA
The summer heat didn't really happen, at least the headline heatwaves of late June and July. In fact, it was a slightly cool summer, before a long dry August helped ripening along. A warm burst in September caused a sugar spike and harvest commenced quickly. Until this point really high acid levels had been a feature. As the ripening season was so gentle, skins were fine and little pressing was needed, so extraction was a delicate and easy process. The wines are ripe (higher degree than usual), with good concentration and also excellent acidity, low pH. Yields down significantly (here and in other places this was in part due to inherent low levels of bud fertility after a year or two of abundance). 2019s will be very good, but will need longer than the 2018s to balance acidity and fruit concentration.
*Ribeira Sacra reports a very bountiful harvest, thanks to fattening rains at harvest time. Like elsewhere, incredibly clean fruit thanks to the long mild dry season, and a very fresh style of wine likely.
BIERZO
One of the driest vintages in memory giving powerful and fresh wines. Rather than winter then summer, it seemed to be a never-ending spring. A quick 3 week harvest, and very clean due to warm picking conditions. The wines will be tannic more than aromatic, and with good acidity, perhaps like 2010 and 2011.
ARRIBES DEL DUERO
After frost and wild boar predation in 2017 gave a 50% yield and then mildew problems in the humid 2018, 2019  is a harvest of normal yields, starting and ending a little early. The heatwave in summer was not a factor our here in the west, however August rains were a feature compared to the extreme dryness of Mediterranean Spain, for example. Harvest conditions after this were perfect and great whites from Doña Blanca and Puesta en Cruz came in easily. The Juan Garcia tintos were more troublesome, as the August rains caused lots of skin splitting in this tricky cultivar (already much prone to berry shrivel and therefore irregular fruit-in-bunch quality). Those who picked early and selected hard will make lovely reds with good acidity and lowish alcohol.
RIOJA
Conditions perhaps a little damp leading into harvest (some botrytis threat), but the summer heat had no negative impacts. The wines are full and round, with incredible acidity.
For example, the report from Jorge Navascués of Contino: "the best vintage of the last 10-12 years" and refers to it as a "mythical" vintage "despite being a warm and dry year, there is no lack of acidity. I'm looking at the lowest pH of recent years, which translates into long-lived wines with great potential".
Oscar Alegre (always a little worried), is concerned that the sugar spike at harvest onset might be giving overly easy wines without a lot of character (but even he notes the wonderful freshness).
In short, a short (late but quick) harvest, 30% reduction in yield, and as Pablo Eguzkiza says,
"In 2019 you don't have to do anything; the wine emerges on its own. It is a year to sit and wait."
Point and shoot, baby!
RIBERA DEL DUERO
A hot September lead to an early harvest, with yields down by 1/3 from 2018. Perfect vineyard health meant wonderfully clean fruit, high quality and excellent ageing potential. With Ribera of course, sectoral differences are crucial. In some parts, the heat waves did affect the resultant wines, as water stress may have halted maturation. In general, shy wines requiring time to articulate concentration and low pH.
PRIORAT
After the heat, a tiny rain in late July, then a really moderate ripening. Overall, a really dry harvest, and the vines dumped leaves. With such dryness, however, excellent sanitary conditions in the vineyard and really clean, healthy fruit resulted. Vintage was over and done by the time the big rains of October (on 23rd October Priorat recorded 1/3 of its annual average in a 3 hour dump!). Low-yielding, vintage started around normal and finished early, so pretty compacted harvest/fermentation times. Garntxas really aromatic, Carinyenas quiet and tannic (the summer heat didn't bother Garnatxa, but shut down the old Carinyena vines).
EXPECT reasonably concentrated wines with good vegetal tannin structure and great fresh acidity.
MALLORCA
Very much like Priorat. 2019 very dry but not actually too hot, and the dryness meant super-healthy clean fruit. No interventions in the field at all. After the long warm, dry lead-in, there were nice refreshing rains before harvest. Low yield about 60% of average, however.
Here's the tasting note on 4 Kilos "Strummer" after fermentation and malo completed (a single hogshead of the greatest old vine Callet-Fogoneu which becomes Grimalt-Caballero): Spicy rose, waxy tuberose, electric in all directions, not even mid-weight but so imprinted and fine, radiant luxury in the most-understated way. A-sparkle and lined with easy linear vegetal tannin.
ALICANTE
Again, the heatwave wasn't really a factor here, and a healthy, low-crop harvest (down about 25%) ensued. April rains freshened, harvest was slow and late, and fermentations cruising along very slowly. Very good things expected.
MARCO de JEREZ
Well, if it comes to yield, Marco got shot in the butt, maybe only yielding 40% of normal.
Quality, however is another matter. Very dry conditions, really healthy fruit, excellent concentration, wonderful acid freshness and very low pH. There just isn't any of it!
And, some thoughts on other recent vintages which I've tried a bunch of while here
2018, a cracker, really elegant wines.
2017, light simple round wines with ok concentration, good early drinkers.
2016, increasingly presenting as dark, dour and very serious. Some may just be stolid, the best will live long and open well with time.
2015, a startler, and there are still plenty in the market, buy all you can! For me, this is edging towards the pantheon of genuinely great vintages … certainly in the conversation with 2009 if not 2010 (yet). They seem easy, but they are just getting better and better.
2014, damp year and as with Barolo and others not the most easily expressive or charming, skip any but the best, but feel free to drink them early while you cellar all the 2015, 2018 and perhaps 2016 you can.
2013, simple and light wines from a difficult year. No reason to fear, but don't get down on yourself if you missed buying them!
2012, patchy: the best producers have made very good wines, some however are a little threadbare and mean.
Cheers,
Scott on the road in Spain.
*Gracias/apologies to Nick Cave (lyrics borrowed and slightly bent from 'Papa won't leave you, Henry', Henry's Dream 1992)